Easy To Make, Tasty To Eat
A Baguette is a long sausage shaped bread and is the most common bread eaten in France. I invite you to embrace the art of French bread-making, following our tried-and-true recipe, and experience the joy that comes from bread baking.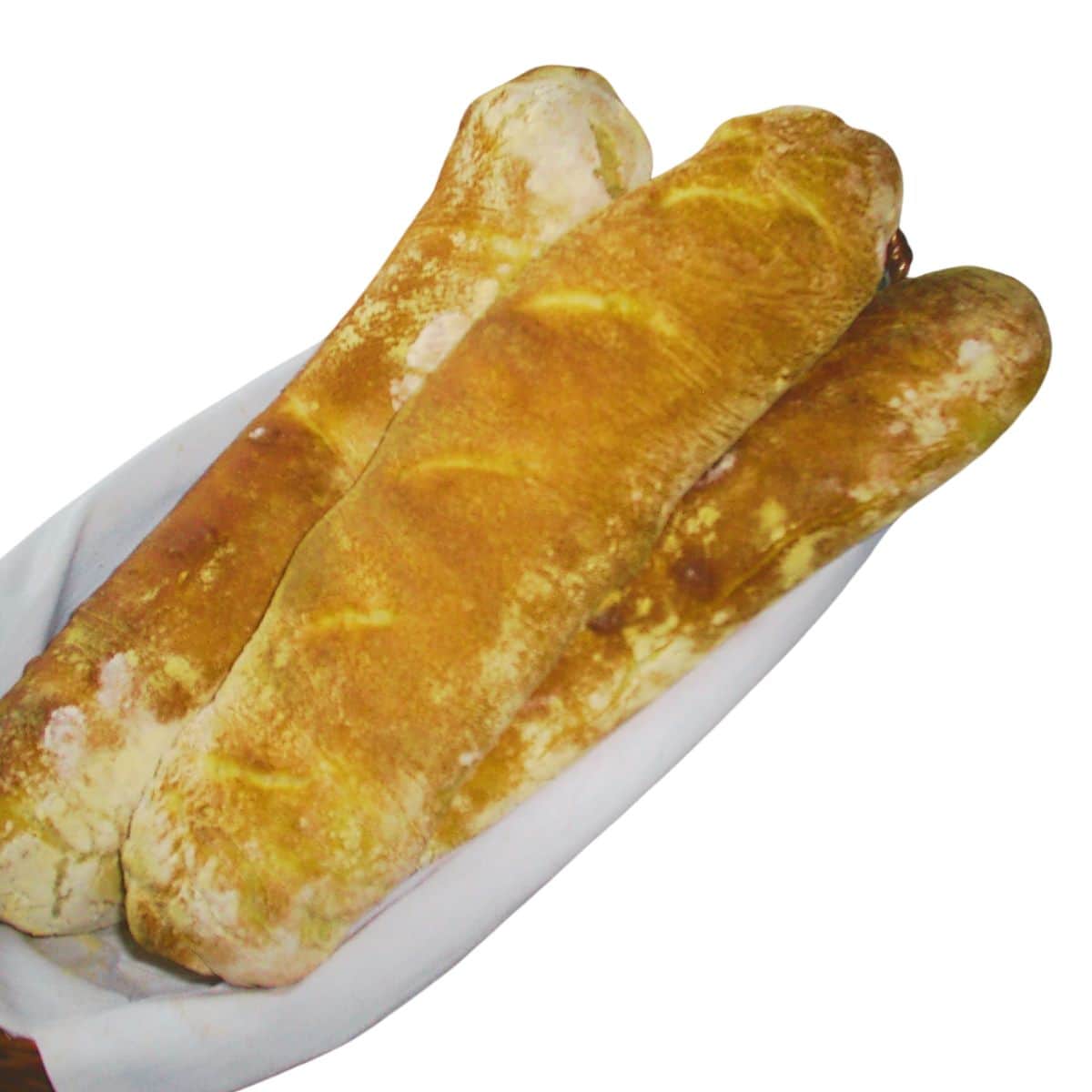 Jump to:
Whether you're a seasoned baker or a novice in the kitchen, our step-by-step guide will help you unlock the secrets of authentic French bread, and you'll find yourself returning to this recipe time and time again.
What Are The Ingredients?
The aroma of freshly baked French bread wafting through your home is nothing short of enchanting. This recipe calls for very few ingredients, four to be exact: flour, yeast, water, and salt, how could it be simpler.
For your French baguette recipe you will also need a very hot oven and lots of steam!
How To Make This Baguette Recipe
Time is the biggest part, but even then you are free to take care of other tasks. If you have children, they will be delighted to help with the punching and scrunching the dough!
Beat the ingredients together to make the baguette batter and cover with clear film.
Let it rest.
Beat in the remainder of the ingredients and knead.
Let it rest.
Punch it!
Divide into 3 parts and shape into loaves.
Let them rest.
Roll loaves onto baking sheet and slice tops.
Place loaves into oven and bake.
It is wonderful to smell the aroma of French bread baking in the oven and you will have bread that is far superior to any that is commercially made.
A crispy French baguette recipe to give your family and friends a treat. Just follow the easy step by step instructions for the best results.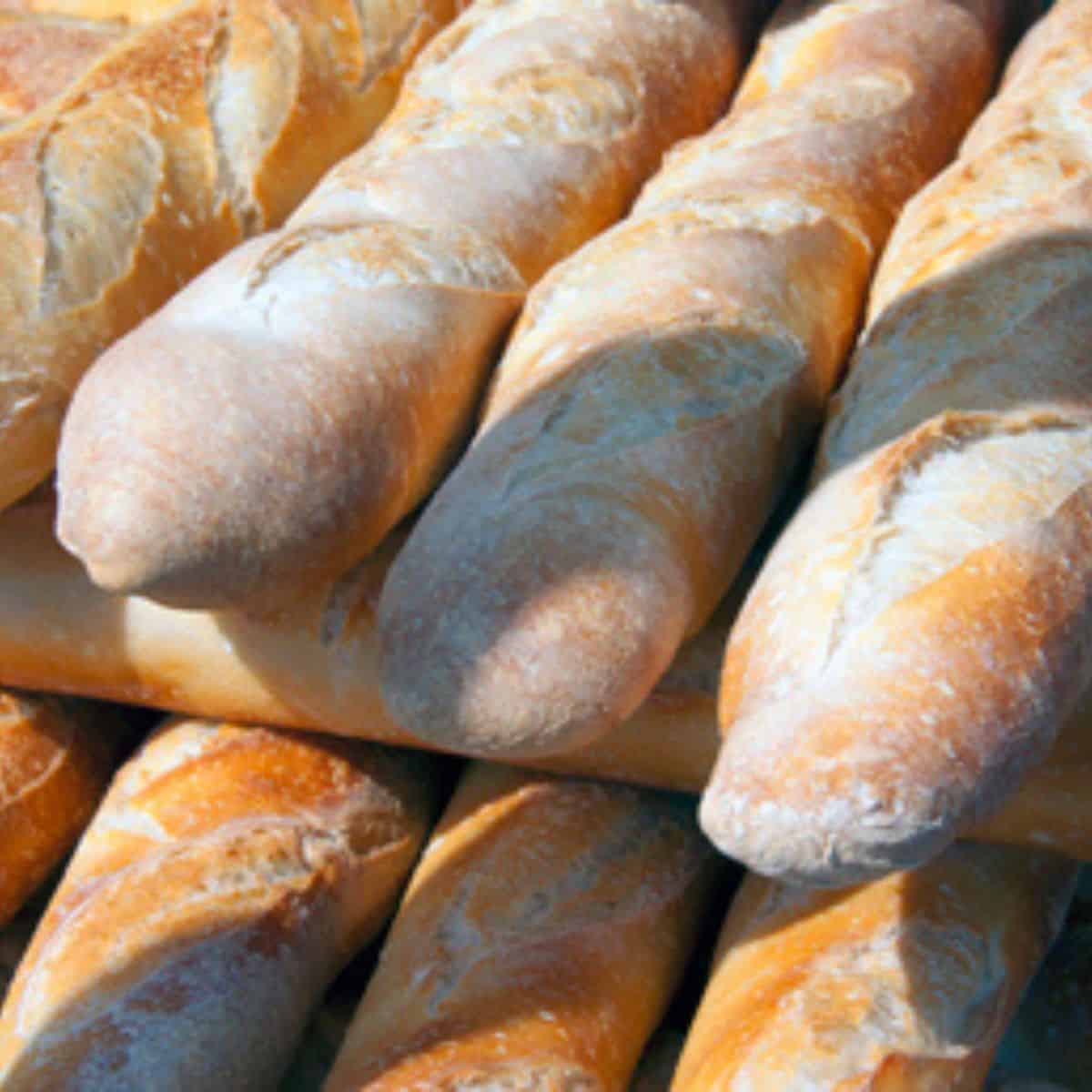 The French baguette is a common bread in France and sold in all markets.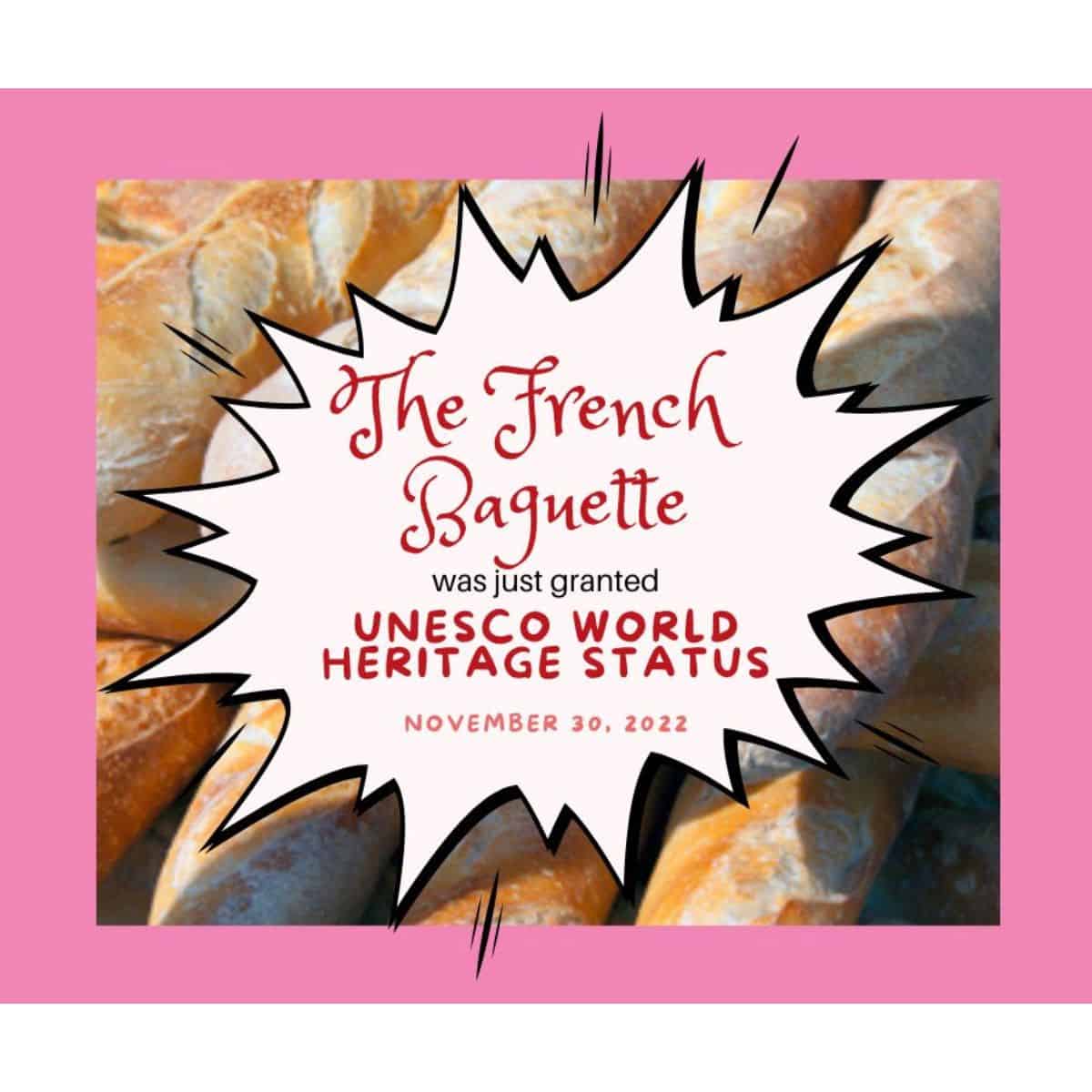 The French baguette was granted UNISCO WORLD HERITAGE STATUS on November 30, 2022. A long deserved and grueling achievement.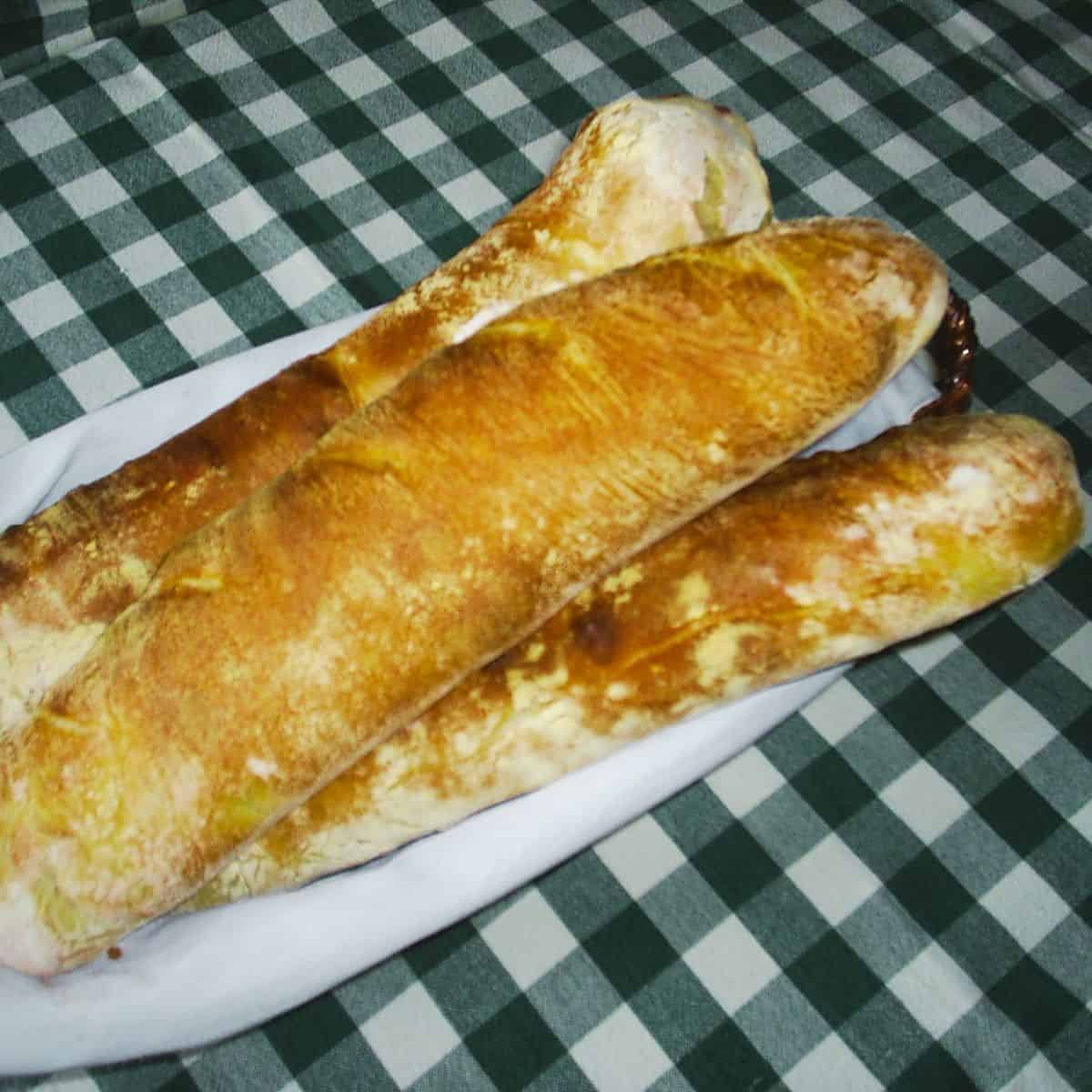 You can fill them with your favorite filling or a good slice of cheese and a glass of your favorite wine!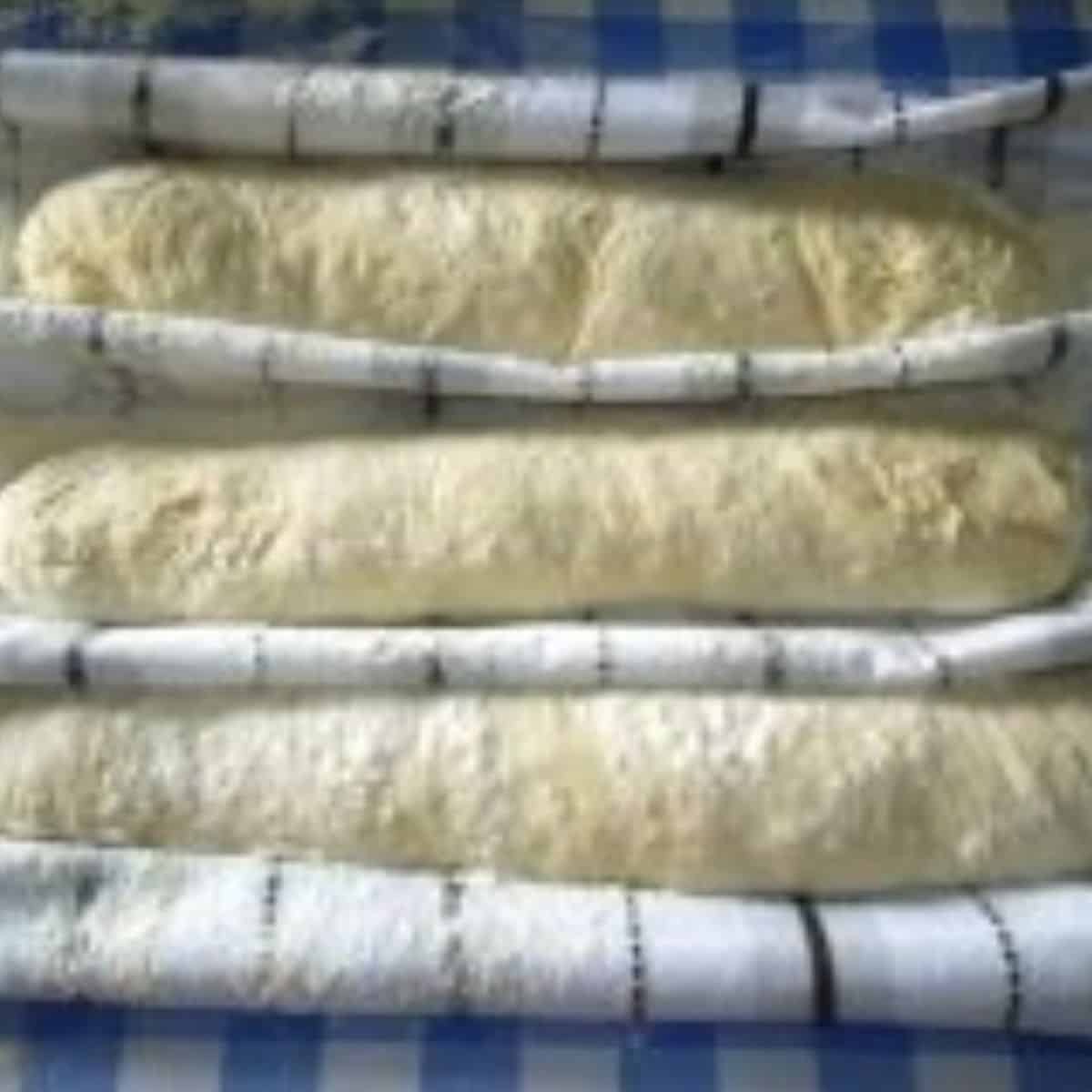 What Other Great French Bread Recipes To Try
Don't like the idea of hours to make bread? Then make French Socca, which is really a scrumptious flatbread. So easy and fast!
Brioche is a famous classic French Bread for you to bake! This brioche bread recipe has instructions to make in a bread maker!
Make the well known French breakfast bread, the quintessential French Croissant! So buttery, light and melt-in-your-mouth deliciousness!
Print
📖 Recipe
Deliciously Crusty French Baguette Recipe
---
Description
This French baguette recipe is crusty on the outside with a light and airy interior, and unparalleled flavor.
---
515

gram

/1 ½

pounds

plain bread flour

2 teaspoon

salt

15

gram

/1/2

ounce

fresh yeast; or 1 tablespoon dry yeast; or 1

½

teaspoons of fast action dried yeast. The type and quantity of yeast used are important! (If you can't get fresh yeast, put all dry ingredients together, then add the water)

425

milliliter

/15 fluid ounce lukewarm water (very important, must not be cold)
---
Instructions
Stage 1
In a large bowl, sift the flour and salt together.
If using fresh yeast, place the yeast in another small bowl, gradually add the water slowly , mixing it well to dissolve it. (If using dried yeast, sprinkle it into the bowl with half of the flour and salt before adding the warm water.)
Beat in half the flour gradually to form a batter.
Cover with plastic film and leave at room temperature for about 3 hours or tripled in size. In the picture on the right below you can see it is bubbly and expanded.
Stage 2
Add the remainder of the flour, gradually beating it in with your hand.
Now, put the dough onto a floured board and knead for about 10 minutes.
Put the dough into a lightly oiled bowl, cover with cling film and leave again to rise for 1 hour.

When doubled in size, knock back.
Turn it out onto a lightly floured board and divide the dough into 3 pieces.
Shape each piece of dough into a ball and then into a rectangle 6 x 3 ins/ 15 cm x 7.5 cm.
Take the bottom third of the rectangle, length ways, and fold it up, then bring the top third down and press the layers together.
Repeat this process about 3 times. Each loaf will now be an oblong.
Gently stretch each piece of dough into a 13-14 ins / 33-35 cm long loaf.
There are special trays called bannetons for resting the bread in before baking which will help keep their shape. If you do not have any then just follow these instructions for an easy remedy! It is what I use!
Pleat a floured dishcloth/tea cloth on a baking tray to make 3 moulds for your loaves!
By placing them between the pleats of the dishcloth/tea cloth the loaves will keep their shape while rising.

Cover with lightly oiled cling film and leave to rise for 1 hour.
Stage 3
Meanwhile, preheat your oven to maximum – at least 230°C/450°F/Gas 8
Roll the loaves onto the baking tray, spaced apart.
Slash the tops in several places with a sharp knife.
Place at the top of the oven.
The oven also needs steam to bake the baguettes correctly.
Spray the inside of the oven with water and bake for 20 minutes or until golden brown.
The oven should be sprayed with water twice more during the first 5 minutes of baking.
Place your freshly baked baguettes onto a wire rack to cool.
As you will see, your French baguette recipe has been well worth the wait. Delicious!
You can fill them with your favorite filling or a good slice of cheese and a glass of wine!
Enjoy!
Category:

bread

Method:

oven

Cuisine:

French
Keywords: French baguette recipe, homemade bread, crusty bread, French food