A Real Treat, Not Just For Kids!
This is the best apple fritter recipe you will ever make and is one that will be popular with everyone, especially with kids.
An apple donut with a delicious crispy batter that makes a very good dessert not only for family meals but also for entertaining when your friends pop around for a meal.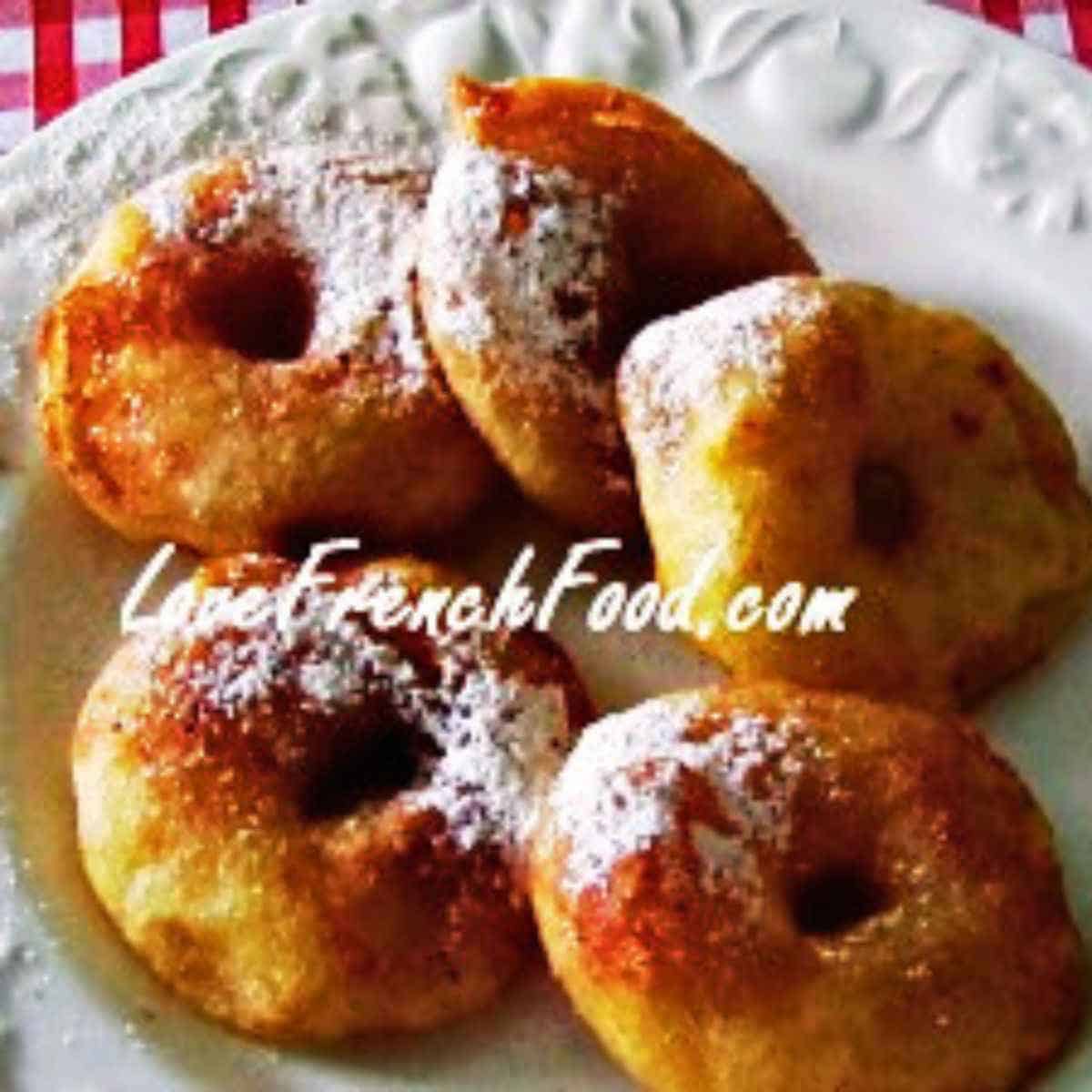 They are a special treat and this one is an easy apple fritter recipe, so not so difficult for you home cooks out there.
All you need are some eating apples, batter for coating and you are away.
You can prepare ahead of time and have them ready to coat in batter and fry just before everyone is ready for dessert.
They only take a few minutes to cook so you will not have to spend a long time in the kitchen.
Other Apple Dessert Recipes You May Enjoy
Tart Tatin is a famous, traditional French recipe that is such a delight that you will revel in serving to your guests.
The classic Normandy Apple Tart will also be a winner for your family and friends. It may look tough to make, but trust me it is not any more trouble than many dishes you make now and is so tasty.
Then there is the French Apple Tart with it's apricot glaze finish that is so easy to make and much easier if you use store bought apricot jam.
About The Divine Batter
Some years ago I was given an easy recipe for a really good batter and this is the one I will share with you here.
This is a traditional apple fritter recipe that is almost fool proof as it delivers a really crispy batter every time and it is quite healthy too.
It does not have butter in it. I guess this is because in the south of France where this batter recipe originates, they use a lot of olive oil instead, which, as we all know is more healthy.
You are probably guessing that the recipe has olive oil in it! Yes, it does, and it is very tasty too.
It is a batter mixture that can be used for fruit, vegetables, meat and fish so it is a really great recipe to make all your fritters whenever you like.
The apples for this recipe can be any eating apples, I used some small local apples for this apple fritter recipe so you can choose your favorite.
For special occasions you can add a flavor such as rum, calvados or cognac.
Print
📖 Recipe
Apple Fritter Recipe
---
Description
This is the best apple fritter recipe you will ever make and is one that will be popular with everyone, especially with kids!
---
For

4

to

6

people

6

eating apples

½

cup

(4oz) castor sugar (granulated sugar can be used as is or pop in blender for a couple of pulses to make it a little finer as castor sugar is)
Two good pinches of ground cinnamon (¼ tsp)
Two good pinches of ground cloves (¼ tsp) and or nutmeg
Batter

¾

cup

(4oz) plain flour

3 tbsp

olive oil (or groundnut oil)
salt

½

cup

(¼ pint) of tepid water

1

egg white
For Cooking
grapeseed oil (my fav for high heat cooking) or vegetable oil of your choice
---
Instructions
Sift the flour into your bowl.
Pour in the olive oil, and add the salt.
Gradually mix in the water, a little at a time. Mix until the batter is smooth and creamy.
Leave to stand for about 2 hours.
Mix the sugar and spices together and leave aside.
Peal the apples and core them. If you don't have an apple corer, simply cut the apples into ¼ inch rings and carefully cut away the core in the center of the apple ring.
Pour the oil into your pan about 2 inches deep and heat slowly to medium high heat. Watch your oil, do not let it smoke.
Now, you have your apple rings prepared and while your oil is heating, dip the apple rings into the sugar and spice mixture before coating them with the batter.
Prepare the batter; whisk the egg white until it is light and frothy then fold it into the flour and water mixture.
Now you can give your apple rings a lovely coat of batter that will be the lightest and crispiest batter you have ever tasted.
Dip the apples in the batter mixture and fry in hot oil until golden brown.
Drain on absorbent kitchen paper.
You can dip them again in the sugar and cinnamon mixture which makes a delicious coating to finish your apple fritters off.
They can be devoured warm or left to cool off, but bet they won't last to cool down!
Now the only thing left to do is eat and enjoy!
Notes
This amazing batter recipe can be used for many different foods like fruit, vegetables, meat or fish.
Prep Time:

20

Cook Time:

30

Category:

Dessert

Method:

pan fry

Cuisine:

French
Keywords: apple fritter recipe, apple donut, French desserts