A Traditional French Dish
This is a scrumptious stew that has many variations using lamb or mutton, pork, duck and local sausage. In this recipe I use lamb, bacon, Toulouse sausage which is made from pork, and haricot beans as the main ingredient stars. This is an easy casserole style meal made from a variety of ingredients cooked on the stove top and finished in the oven. It is so tasty, everyone will love it!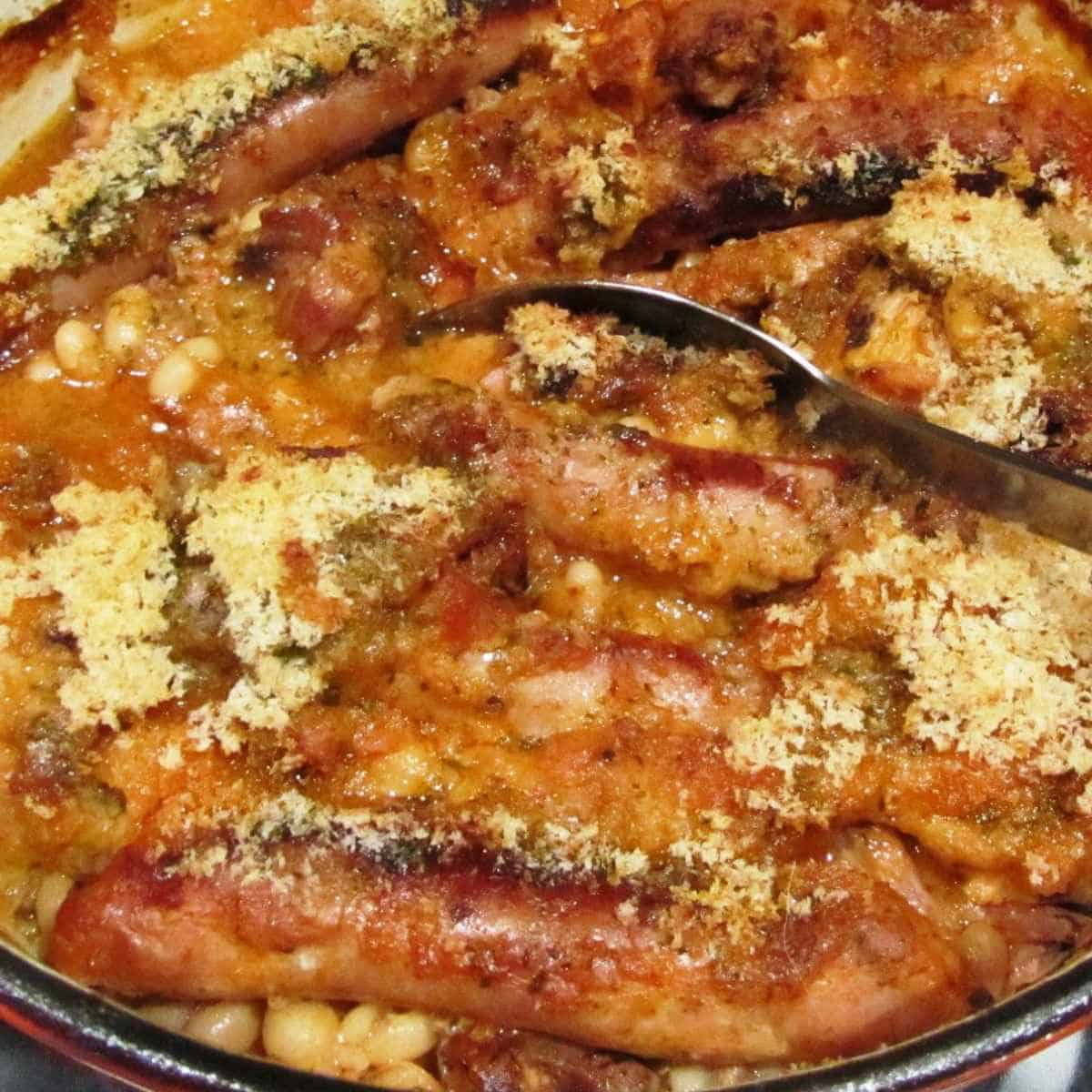 Cassoulet is a true family dish which originates from the Midi-Pyrénées area of France and is a perfect cold weather meal.
It is a substantial meal, but one that is appetising and sure to be a winner. It is also a great dish to cook for your friends, they will love it too!
If you have an appetizer to start with, make sure it is something light!
But, be warned: it takes a long time…but it's worth it.
If you don't have the time for this wonderful recipe but would like a meal made with sausage try this Sausage Recipe. If you do not care for Andouillette sausages that are called for, then you can easily substitute with the Toulouse sausages used in this recipe.
Or perhaps a very delicious Pork, Apple, And Chestnut Pie would go down well!
The Ingredients
The white haricot beans in this recipe are the long white bean from the baked bean family, which the Italians call cannellini and are the ones most commonly used in France as well.
The small round white beans in this family are most often used in baked bean recipes and the ones found in a can of baked beans.
The long white beans are tastier and as their small round cousin take on the flavour of the recipe nicely.
How To Cook This Classic French Dish
Print
📖 Recipe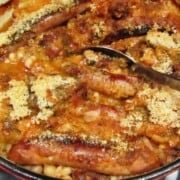 Cassoulet Recipe
---
Description
Bon Appetit
Like it? ~ Let us know below!
It is a substantial meal, but one that is appetizing and sure to be a winner. It is also a great dish to cook for your friends, they will love it too!
---
1

pound

( about half a kg) haricot beans, soaked overnight

8

ounce

(225gms) garlic or Toulouse sausage

1

pound

(about half a kg) shoulder of mutton or lamb cut into ¾ in cubes

4

ounce

(125gms) streaky bacon, or lardons

2

cloves of garlic

1

medium onion with 2 cloves stuck in it
Small bunch of parsley

2

fresh tomatoes de-seeded

4

ounce

(125gms) breadcrumbs

2

ounce

goose fat or oil if you prefer (enough to brown the meat)

2

ounce

(225gms) of preserved goose (confit d' oie), many supermarkets stock this nowadays, or if you cannot obtain this (from specialty food stores/or online) you can add more lamb or mutton, pork or even more sausage or a small duck! Use whatever you prefer or can obtain. The preserved goose does make a difference but it will still be fabulous!
---
Instructions
Prepare the haricot beans by draining them, then place in a large saucepan with cold water and boil vigorously for 10 minutes (instructions are usually on the packet)
Drain the beans and place in a heavy bottomed stockpot or marmite. Add enough cold water or to cover and bring to a boil, then lower to simmer.
Simmer for about 1 hour.
Now melt the goose fat in a heavy bottomed pan and cook the diced meat until it is brown on all sides.
Add the meat, the sausage, the tomatoes and the parsley tied in a bunch to the beans.
Add the onion stuck with the cloves and put a lid on the pot.
Simmer for about 2 hours.
Chop the garlic and streaky bacon together and add to the beans.
Cook for another 1-2 hours.
As the cassoulet cooks, a brown crust will appear on top. Break this several times during cooking and gently push it down to allow new layers of beans to rise to the surface. If it has thickened too much, add a little more water.
Sprinkle the breadcrumbs over the cassoulet and put in a pre-heated moderate oven and cook for another 30 minutes.
As the breadcrumbs turn brown and crisp, break them up and allow the juices to mix in with them.
Allow the breadcrumbs to crisp again and serve immediately.
And to wash it down, a glass of a good light red wine makes it a meal to be proud of!
Prep Time:

25 minutes

Cook Time:

5 hours 10 minutes

Category:

dinner

Method:

stove top and oven

Cuisine:

French
Keywords: cassoulet recipe, stew, sausage, white beans