Magret de Canard au Cerises
Duck breast with cherry sauce is an exquisite meal with a delightful sauce that is easy to make.
For this recipe to be truly authentic you need real French 'magrets de canard', which are the breasts of ducks that have been fattened to produce foie gras, and the fresh red cherries from Roussillon in the south of France. But this recipe is a compromise, allowing for the difficulty of obtaining those specific ingredients.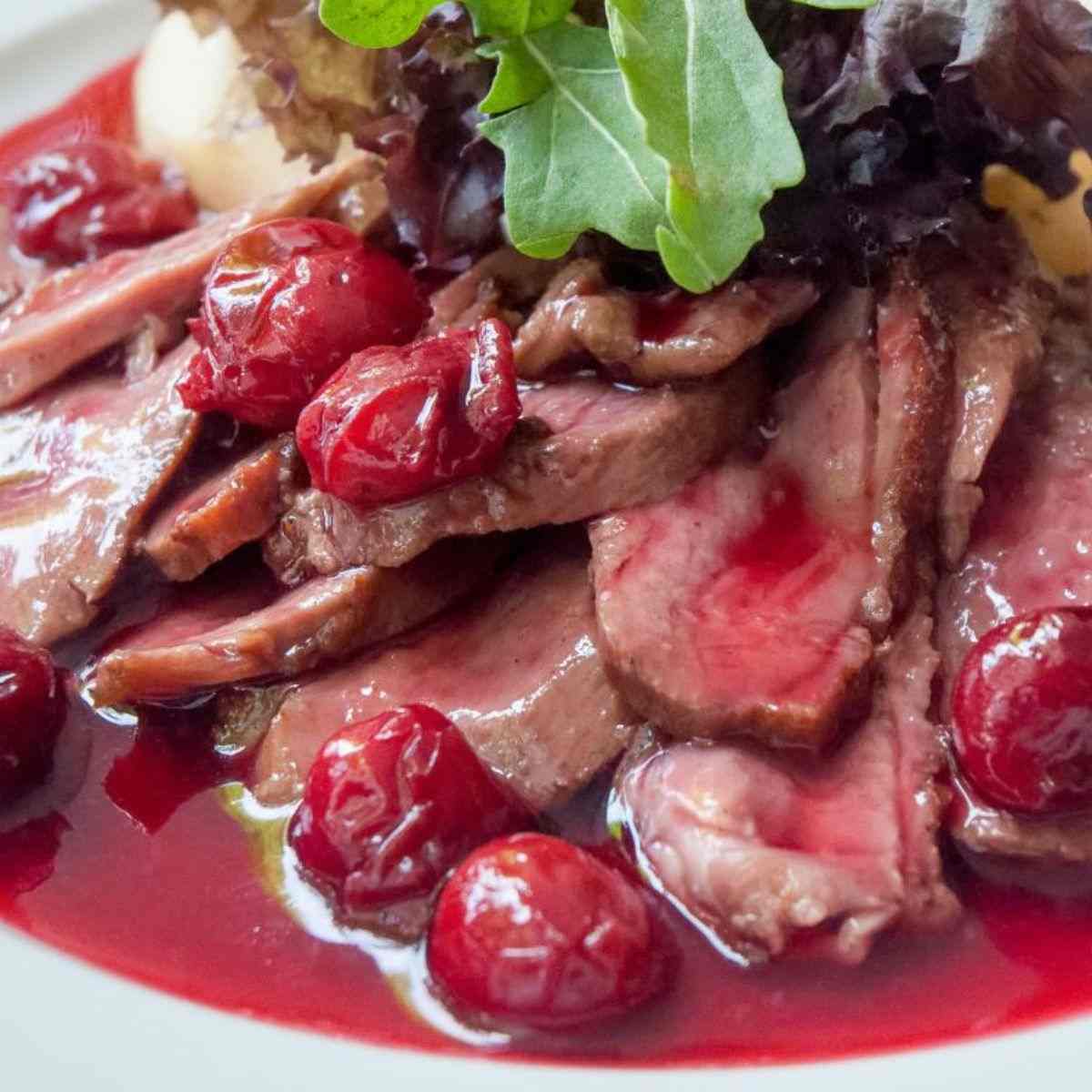 Duckling à la Montmorency, as it is sometimes called, is a classic of French cuisine. You can make the sauce with both sweet and tart cherry varieties, or both fresh and canned fruit. Fresh are obviously better, but canned pitted cherries are more convenient, but be sure to use canned fruit, not the thick pie filling that also comes in cans. Adjust the sugar to taste.
The key to success is getting the cooking of the duck breasts exactly as you like them. Since they come in different sizes, and, sometimes, of varying quality, this takes a bit of practice and experimentation in your own kitchen. But keep notes of what you do at each stage, and vary this recipe accordingly so that you get perfect duck breasts every time.
What Side Dish To Serve With This Recipe
Serve with Gratin Dauphinois or Pommes Boulangère.
Substitutions For Red Wine
(Always replace the liguid amount with something.)
alcohol-free red wine
red wine vinegar (½ vinegar and ½ water)
grape juice
cranberry juice
pomegranate juice
beef broth
chicken broth
water
Instead of Red Wine
Add a tablespoon of kirsch to the sauce, but don't overdo it, or add 2-3 tbsps of port (but not both!)
Print
📖 Recipe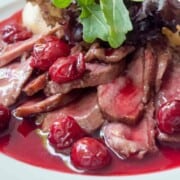 Duck Breast With Cherry Sauce
---
Description
Duck breast with cherry sauce is an exquisite meal with a delightful sauce that is easy to make. 
---
4

duck breasts
sea salt

400

gram

of fresh red cherries, or canned equivalent; halved or left whole (or some of each)

1

-

2

teaspoons of clear honey
juice of

1

orange, plus 4 slivers of zest

200

ml

red wine, or, if you used canned cherries, then you can substitute the syrup
sprig of thyme (optional)
freshly ground black pepper

1 tsp

corn flour or arrowroot
---
Instructions
Score the fat of the duck breasts at 1.5cm intervals, cutting completely through to the meat, but no further. Salt generously with sea salt, and gently rub in.
Place the duck breasts, fat side down, in a cold pan – it must be cold – and place over a medium heat.
Gradually, as the pans warms up, the duck breasts will release fat. Once about a tablespoon has been released, spoon this out into a saucepan. As more fat is released, spoon this into a bowl and set aside to be used on some future occasions for roasting potatoes, for example. [Don't throw it away; in fact, if you trimmed duck fat from the breasts in the first place, you can render these down in a pan and reserve for later use.]
Cook the duck breasts until the skin takes on a golden colour and starts to crisp, but don't go poking the duck around too much; just lift it gently with tongues to check on how it's cooking.
While keeping an eye on the duck breasts prepare the cherries. If using fresh cherries, stem and rinse them under cold running water, then drain. Pit the cherries with a cherry stoner. If using canned cherries, drain, rinse, and drain again. Set the cherries aside.
When the duck breasts have a nice color, flip them over, still on a medium heat, and cook for a further 2–3 minutes or so, and then place them and the pan into the oven to cook for a further 5–10 minutes, depending on how well cooked you like your duck breasts. [The first time you prepare this dish, you might want to check on the duck breasts as they cook by slicing into one of them to see how they are doing. Then adjust the cooking time to your own taste.]
Once the duck breasts are done, remove them from the pan and place them in a warm dish and cover with foil or a tea towel to rest.
Now set the pan with the duck fat over a gentle heat and add the cherries, turning them to coat them in the fat.
Cook for 3 minutes or so, and then add the honey, the orange juice and zest, the red wine, the thyme (if using) and 2 or 3 grinds of black pepper.
Bring to the boil, and then reduce to a simmer for 10 minutes.
Add the cornflour mixed with a small amount of water at this stage, to thicken the cherry sauce.
Slice the duck breasts along the scored lines you made earlier, and arrange on plates. Spoon over the cherry sauce, having removed the thyme, ensuring that each plate has some of the orange zest.
Notes
Serve with gratin dauphinois or pommes boulangère.
Substitutions:
Add a tablespoon of kirsch to the sauce, but don't overdo it, or add 2-3 tablespoons of port (but not both!)