This is an excellent terrine to make for a special occasion. It is rich, filling, and ever so tasty. And it is relatively easy to make, yielding excellent results for nominal effort. It uses dried porcini mushrooms, but fresh ones are just as good. Don't expect this to last long once your family knows that you have it in the fridge.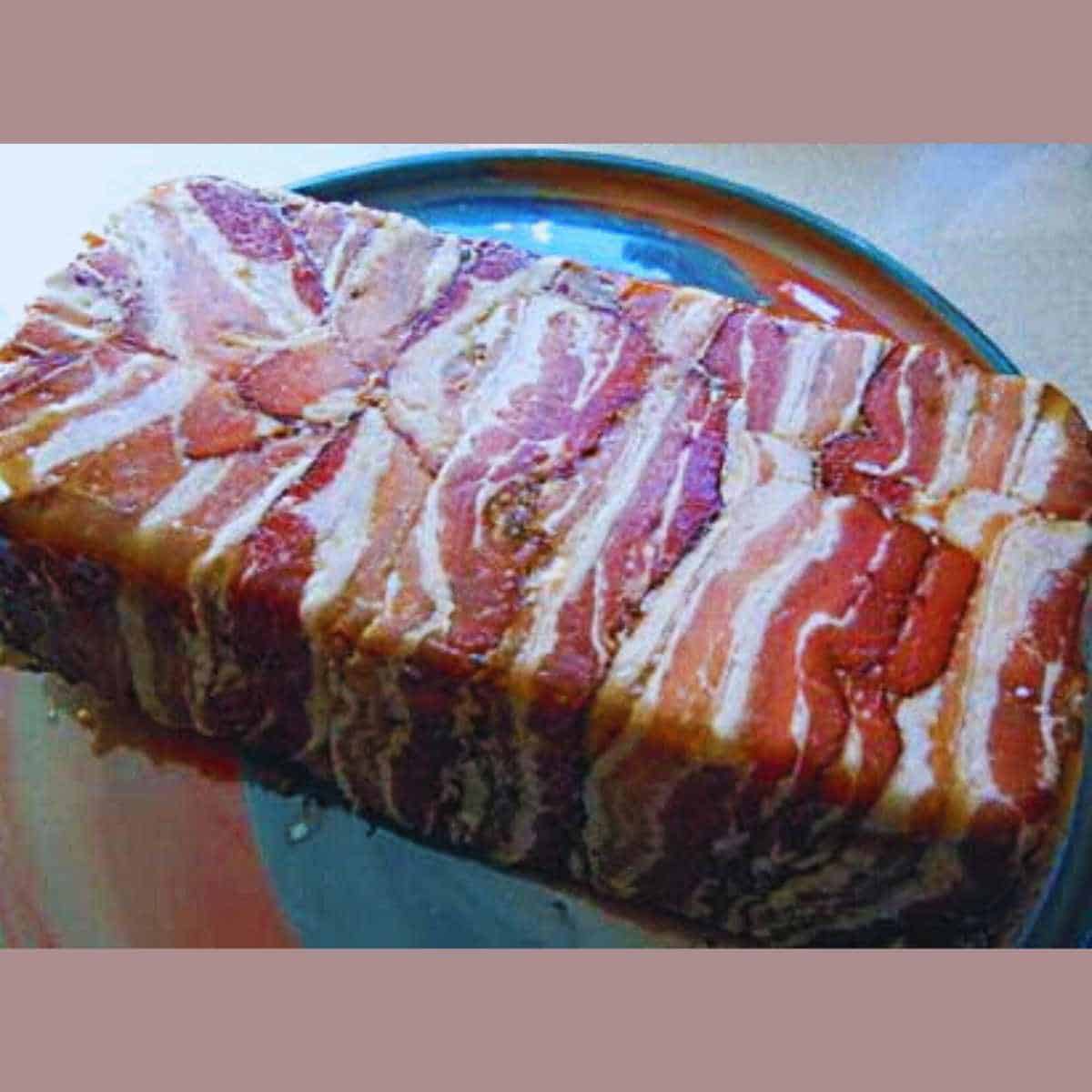 You will also need a lidded, 9cm-deep terrine dish (29x7.5cm), or a 2lb loaf tin; baking parchment, kitchen foil, and a piece of card slightly larger than the top of the dish or the tin.
This terrine can be made up to three days ahead, if you are preparing it for a special occasion. Do not be afraid to slightly vary the ingredients by experimentation to suit your taste preferences, but don't overdo either the tarragon or the Porcini mushrooms.
This is a tasty addition to your hors d'oeuvre table and in North America it will likely WOW your guests.
Made with Italian pancetta, I will show you how to substitute bacon instead. Simply boil the bacon first as this will remove some of the fat and create less shrinkage when backing the terrine in the oven.
What Is The Best Terrine Mold Made Of?
Many chefs would recommend a cast-iron mold and especially one that is enameled. This type of heavy material bakes the terrine the best and most evenly. Although, it is expensive.
If you prefer to spend less or use what is on hand, you can use a bread loaf made of stoneware, ovenproof glassware or stainless that you have. Simply place a sheet of parchment paper over the top and then 2 layers of tin foil, making sure to tuck the foil firmly around the edge.
What Is A Terrine?
This is a fair question because terrine can be confused with a pate as both are served as hors d'oeuvres and eaten as a spread on crackers or toast. But, their is a difference. A pate is made of various ingredients , with the main one often being liver, salmon, or mushrooms, although there is no limit to the flavour. A common aspect of pate is that it is ground very fine and then can be placed in a decorative shaped container to mold or serve in.
On the other hand a terrine is made with chunky ingredients, not a smooth consistency like a pate and is almost always made in a terrine dish or loaf pan and sliced up into slabs.
More Great Recipes Like This One
Liver Paté the easiest of all pates to make.
Salmon Paté which is a great pairing with crudites as the French say or raw vegetables.
Bring the countryside into your home with Country Paté in French Pâté de Campagne.
Print
📖 Recipe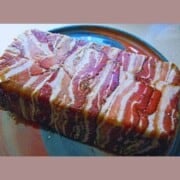 Traditional Chicken Terrine Recipe
---
Description
This is an excellent terrine to make for a special occasion. It is rich and filling, and ever so tasty.
---
650 gram

-1 kg boneless, skinless chicken, cut into 1cm cubes (You need to experiment with the quantity to achieve a balance of flavours that suits you)

300 gram

Pancetta, or Parma ham, or bacon that has been boiled so it can be eaten with the terrine when it is together. You may need more bacon depending on the shrinkage after it is cooked.

50 gram

dried Porcini mushrooms

2 tablespoon

good quality olive oil

6

echalion (Banana) shallots, peeled and finely chopped

2

cloves of garlic, peeled and crushed

20 gram

flat leaf parsley, finely chopped (You can use more, if you prefer, but not more than 40gm in total)

20 gram

fresh tarragon, finely chopped

100

mililitre dry white wine
Good grating of nutmeg
salt and freshly ground black pepper
---
Instructions
Heat the olive oil in a frying pan, and when it is hot (but not smoking), add the shallots. Cook over a fairly high heat for 5 minutes until slightly tinged with brown at the edges (but not burnt).
Then add the garlic and cook for 1 more minute. Remove from heat, and set aside to cool completely.
Use 200gm of the Pancetta to line the terrine dish; make sure that the slices overlap, especially on the base, and that there is enough overhang to cover the top once the dish is filled.
Finely slice the rest of the Pancetta, and put it in a large bowl with the chicken.
Put the porcini in another bowl and add 200ml of boiling water. Soak for not less than 10 minutes.
Strain the mushrooms, reserving the soaking liquid, and chop finely.
Put the liquid from the mushrooms in a pan over a high heat and reduce to 1 tbsp. Allow to cool.
Add the herbs to the chicken and Pancetta along with the cooled shallots, white wine and mushrooms, and season very well with salt, pepper and nutmeg.
Strain the reduced mushroom liquid, then add it to the meat mixture. Give the whole thing a good mix with clean hands.
Pack the mixture into the lined terrine dish/tin, and cover well with overlapping Pancetta, making sure there are no gaps. [If using a terrine dish, cover the surface of the terrine with baking parchment, and then put the lid on. If using a loaf tin, cover the surface of the terrine with a layer of baking parchment, followed by a double layer of foil folded under the rim to seal.]
Place the dish in a roasting tin and pour in enough boiling water to come halfway up the sides. Place on the middle shelf of the oven and cook for 1 hour if using a terrine dish, or 1 hour 15 minutes if using a loaf tin.
Remove from the oven and uncover. Insert a metal skewer into the centre and wait for a few seconds. The juices should run clear: place the tip of the skewer against your bottom lip; if it is hot and the terrine feels firm to touch, then it is done. [If you have a kitchen thermometer, insert this into the centre of the terrine – the core temperature should be at or above 70°C.]
Empty the water from the roasting tin, and return the terrine to it. Cover the terrine with baking parchment, and now press the terrine by using a piece of thick card to fit the top of the dish, cover with foil, place weights on top and leave for at least 1 hour.
Remove the weights, and cover the terrine with the lid or fresh foil. When cool, chill in a fridge.