Fond De Volaille
The reason you want to know how to make chicken broth is because it is wonderfully useful for many recipes. Make delicious chicken stock for your soups, casseroles, sauces, and many other recipes that call for it, or use it to substitute for water in recipes to add extra flavor!
Chicken broth is so easy to make and very versatile.
Many recipes for soups, casseroles, sauces, and a myriad of other recipes, call for a good chicken stock.
I often add my homemade chicken stock instead of water to a recipe to give it extra flavor, and I even cook rice and sometimes pasta with it.
Turkey can also make fabulous stock. Think about how large turkeys can be and what a great large batch of broth you can have. I usually divide my turkey carcasses into two batches.
For both chicken and turkey stock after it is strained, it is divided into containers, labelled, and placed in the freezer for a good supply of broth for later use.
I freeze mine into different sized containers, some 1-2 cups and others in large size enough to make a pot of soup.
It makes it much handier for making dishes I only need 1 cup of broth then I don't have a lot of extra broth going bad in the fridge.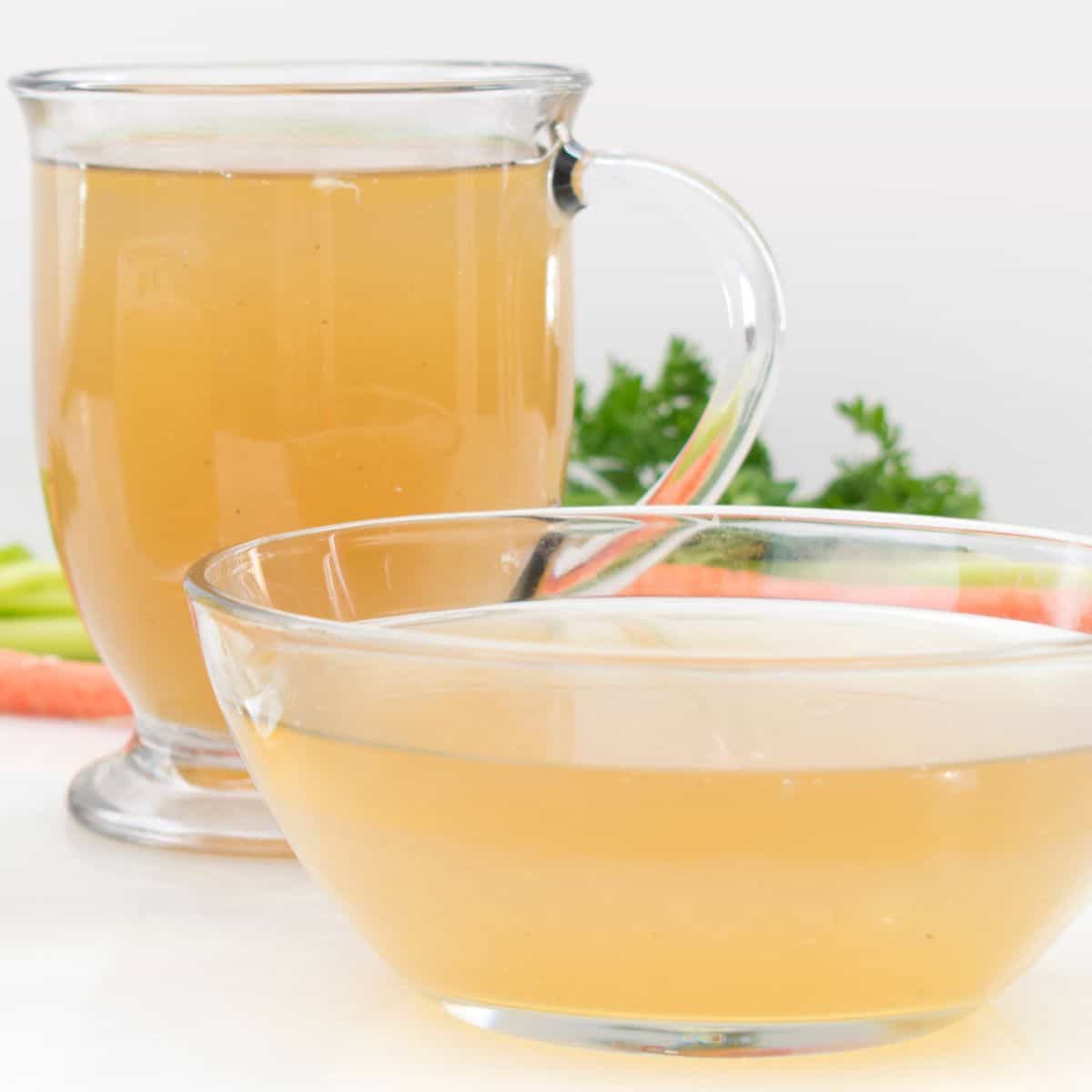 Sometimes when I am feeling like I am coming down with something, I will heat and sip a cup. So good and nutritious!
The stock in the picture above is filtered and strained, which I do not always do because all those little bits you lose in the process of straining are good for you, but it looks nicer. 😉
Anyone who wants to know how to make chicken stock will be able to make the most delicious recipes using leftover chicken and turkey carcasses!
So next time you have chicken for dinner - "don't throw any bits away"!
I keep a bag in the freezer for chicken bones and add to it as we eat our chicken meals.
When there are enough bones, gristle, wing tips, and a little skin to make a nice full pot of stock, then that is when I make my stock.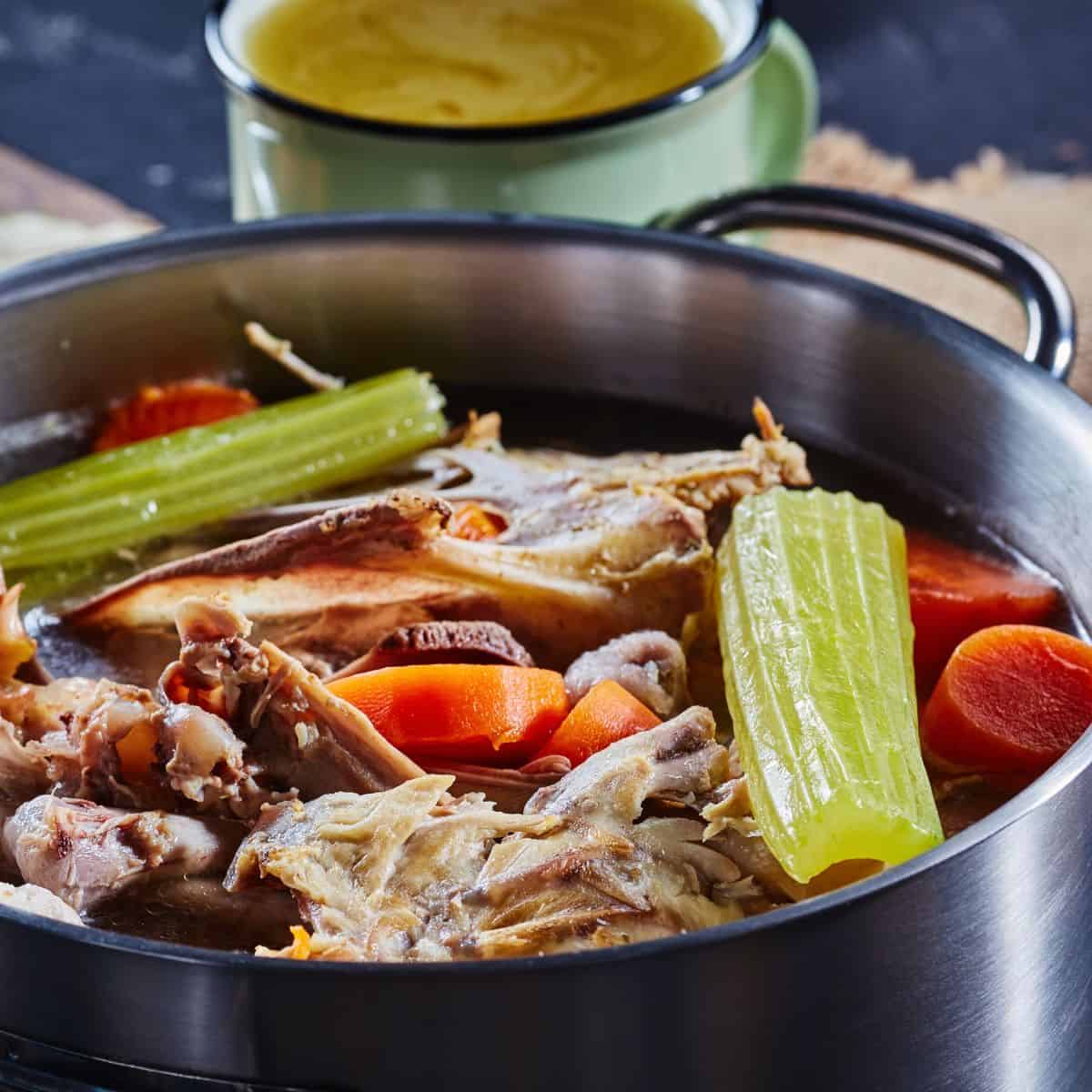 Use a good sturdy pot, or a slow cooker works fine.
I use my large enameled cast iron pot that has a 6 quart/5.7 litre capacity.
Beef bones or left over fish bits can also be turned into useful, tasty stock to make your cooking spark. Try these recipes for beef stock and remember you can keep a bag in the freezer to add to, to make fish stock when you have enough.
Sometimes you may want to add some extra flavor to a dish, but don't want a meat base like chicken stock, so you can make a delicious simple stock instead.
I have 6 stock recipes for you to keep handy to enhance the food on your table!
Print
📖 Recipe
How To Make Chicken Broth
---
Author:

Judith Coates

Total Time:

20 minutes prep + 4-12 hours cooking
Description
Prepare chicken broth for your soups, casseroles, sauces, and many other recipes that call for it, or use it to substitute for water in recipes. Makes everything better!
---
4

pound

(2kg) raw chicken carcasses, necks, feet, or cooked carcasses.

2

large onions, halved but unpeeled

3

large carrots, cut in large pieces

1

stick celery

3

garlic cloves, unpeeled and crushed

1

large bouquet garni
Do not add salt to your stock. Sauces and soups are seasoned when cooking.
---
Instructions
Place all meat ingredients in a large heavy based stock pot or pan and cover with cold water.
Bring to a boil.
As the liquid heats a foam will develop .Skim this off with a large ladle. This will take a few minutes.
Add the vegetables and herbs.
Reduce the heat until just simmering and continue to simmer for about 4-12 hours. There are a lot of different opinions when it comes to whether a stock pot should be covered while cooking and length of time. (see notes below)
Continue to top up the stock with boiling water during the cooking. (As in the picture above, it is ready to be topped up.)
Leave the stock to cool and skim off the fat.
The large pieces of bones can be removed by hand.
Pass the stock through a fine sieve or muslin and discard the bones and vegetables.
If the stock is left to go cold there may be more fat on the surface which you can now remove easily either with your fingers or a large ladle.
The stock can be frozen in small and large quantities until it is needed.
Prep Time:

20 minutes

Cook Time:

4-12 hours

Category:

broth

Method:

stove top

Cuisine:

French
Keywords: chicken broth, stock, soups, sauces, casseroles