French Snails
Escargot is thought of as an exquisite dish and indeed it is. They are snails, a land mollusk and may not be something you even want to think about let alone eat one. And if you haven't yet tried them, the idea may not be very appealing… but you may well be surprised! Two scrumptious recipes here for you to try "Snails Smothered In Garlic Sauce" and "Snails With White Wine & Mushrooms!"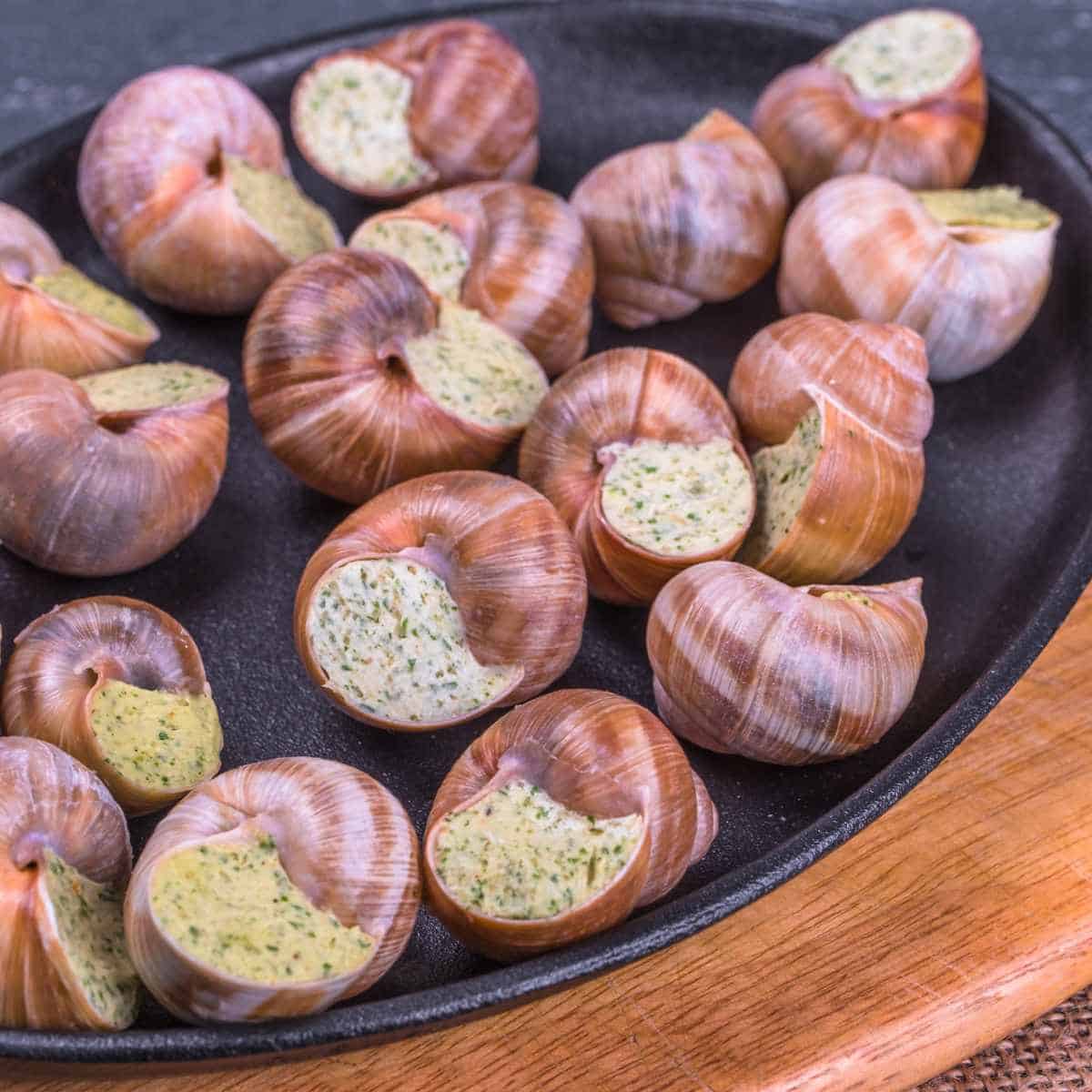 Escargot is a dish of cooked land snails, usually served as an appetizer in France and in French restaurants, and it is no secret that many people find snails to be a delicious starter to a meal, something of a delicacy, which makes them rather expensive.
In rural parts of France, it is not unusual to see locals wandering the roadside hedgerows searching for snails.
Escargot snails are often thought of as shellfish as people confuse them with a water creature because they have a hard shell. They are not completely wrong as land snails are mollusks like mussels or scallops.
Curious about mussels? Try this scrumptious classic recipe Mussels In White Wine, Mussels and Frites, Mussel Soup Recipe, or if you fancy the idea of learning how to cook sauteed scallops like the pros, you will be surprised how simple and divine they are!
How To Prepare Snails For Eating
But before they can be eaten:
1. The snails have to be purged.
Like most mollusks, escargots are high in protein (as much as 15%) and low in fat (if cooked without butter), but in reality they are about 80% water.
The snails are first prepared by purging them of the likely undesirable contents of their digestive systems.
The process used to accomplish this varies, but generally involves a combination of fasting and purging or simply feeding them on a wholesome replacement like grape leaves, lettuce, apples, flour or bran.
Something that will clean their system of the food they naturally consume which can be harmful to humans. The methods most often used can take several days.
Farms producing snails (Helix aspersa) for sale exist in Europe and in the United States.
In the late 1980s, escargots represented a $300 million-a-year business in the US.
2. Killed.
The snails are placed in a pot of cold water with some salt and a few drops of vinegar where the waste will be purged from their bodies.
3. Cleaned.
With a sharp the snail foot is removed, which is the cover over the opening of the shell. Then placed in a pot of with lots of cold water. Any snails that float are thrown out.
Then 2 or 3 snails are taken out and rubbed together by hand, set aside and the process is continued until all have been rubbed.
The water is discarded, the snails placed back into the pot and filled again with lots of cold water and the process repeated again.
Then the snails need to be rinsed very well.
4. Then, cooked.
Snails are usually cooked with garlic, butter, chicken stock or wine.
5. Served
Often snails are placed back into their shells with the butter and sauce for serving.
Additional ingredients may be added, such as garlic, thyme, parsley and pine nuts.
OR
Buy canned snails at the grocery store!
But, place them in a bowl, cover with cold water and let sit for several minutes to remove any flavor they may have picked up from the can.
Then, dry them well with paper towel or clean kitchen towel before adding to the recipe of your choice.
Escargot is considered a high end appetizer that is served in fine dining establishments and can be quite pricey. Now you can prepare your own French snail delicacy!
More Delicious Hors d'Oeuvres
There are many ways to serve French Snail Dishes:
1. Snails With White Wine & Mushrooms
Print
📖 Recipe
Snails With White Wine & Mushrooms
---
Description
This is a quick, easy, and luscious appetizer to serve your guests!
---
12

snails shelled and washed or if using canned rinse well and let soak in water for several minutes

6 tablespoon

butter

1

chopped garlic clove

2

cup

mushrooms

⅓

cup

wine

⅓

cup

cream

1 tablespoon

flour

¼ teaspoon

dried tarragon
---
Instructions
Preheat oven to 180°C/350°F/Gas 4
Grease a casserole
Then melt 6 tablespoons butter in a saucepan, add garlic, and 2 cups mushrooms, stir, and cook about 5 minutes.
Whisk wine, cream, flour, and tarragon, until smooth and slowly add to saucepan bringing to a boil, stir often for 10 minutes, salt and pepper to taste, then remove from heat.
Arrange mushrooms and snails in a casserole dish, cover with sauce, and sprinkle with cheese.
Place in oven until golden, about 12 minutes.
Prep Time:

15 minutes

Cook Time:

22 minutes

Category:

appetizer

Method:

stove top/oven

Cuisine:

French
Keywords: escargot, land snails, hors d'oeuvres, starts, French foods
2. Snails Smothered In Garlic Sauce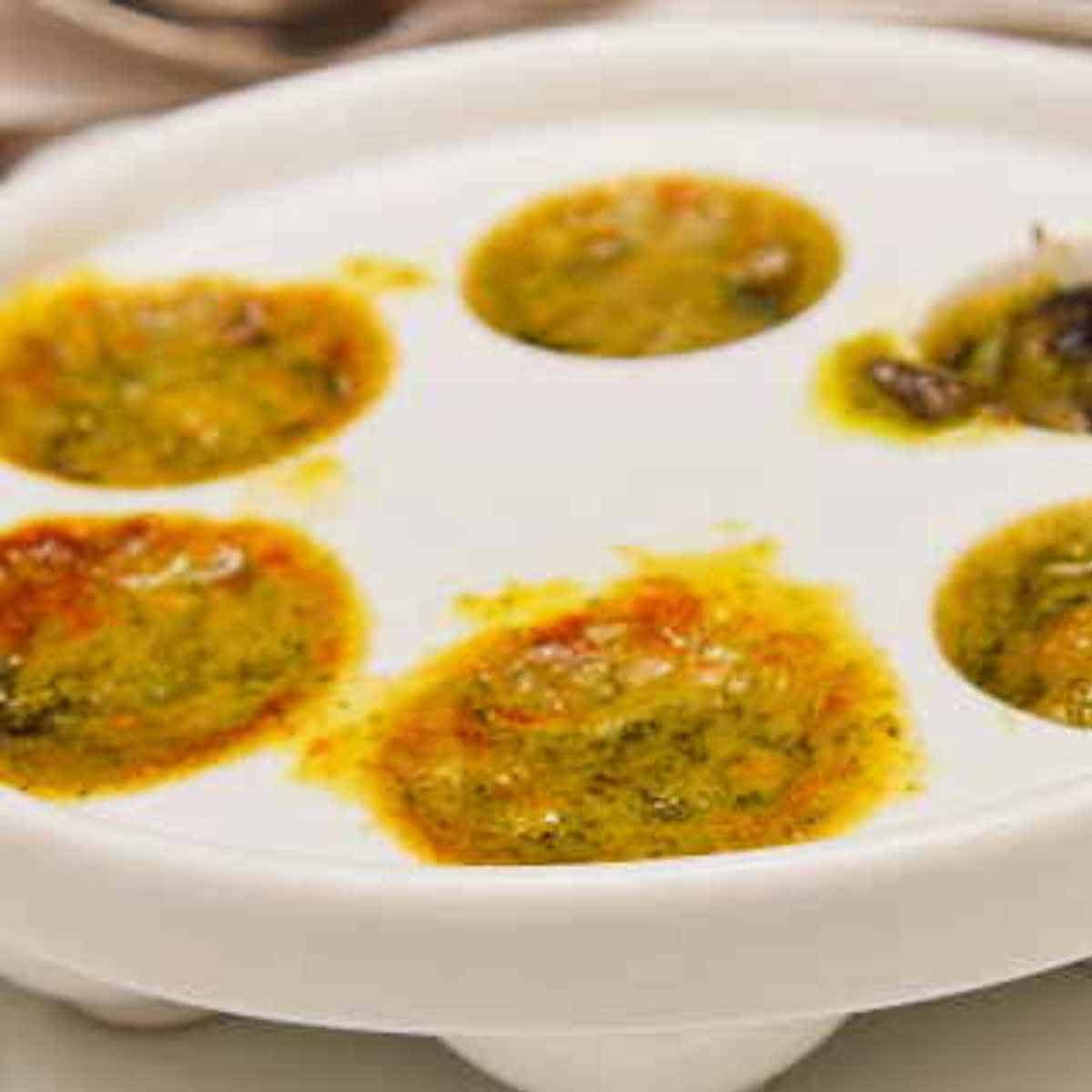 Print
📖 Recipe
Snails Smothered In Garlic Sauce
---
Description
A scrumptious blend of butter, garlic, shallots, basil, and parsley made into a wonderful and poured-over succulent escargot and baked with a breadcrumb or pastry crust! Yummy!
---
2 tablespoon

butter

1

sliced shallot

24

snails

8

cloves garlic

1

cup

parsley

12

large basil leaves

½

cup

unsalted butter chopped into pieces
salt and pepper to taste
---
Instructions
Preheat oven 400°F/200°C/Gas 6
Melt 2 tablespoons butter in saucepan, sweat shallot and snails for a few minutes, season with salt and pepper, set aside in a bowl.
In a processor or blender add 8 cloves of garlic, 1 cup parsley, basil leaves, ½ cup unsalted butter chopped into pieces, a little salt and pepper, and blend.
Place snails in oven-proof serving dishes and generously cover with garlic butter blend, sprinkle with breadcrumbs, croutons, or puff pastry.
Bake for 10-12 minutes.
Prep Time:

15 minutes

Cook Time:

10-12 minutes

Category:

appetizer

Method:

oven

Cuisine:

French
Keywords: Snails Smothered In Garlic Sauce, escargot, garlic butter sauce, French hors d'oeuvres