Pears in red wine is an intoxicating combination of sweetness from the fresh pears mingling with the taste of a good red wine, just has to be the most beautiful dessert, and it's easy to make!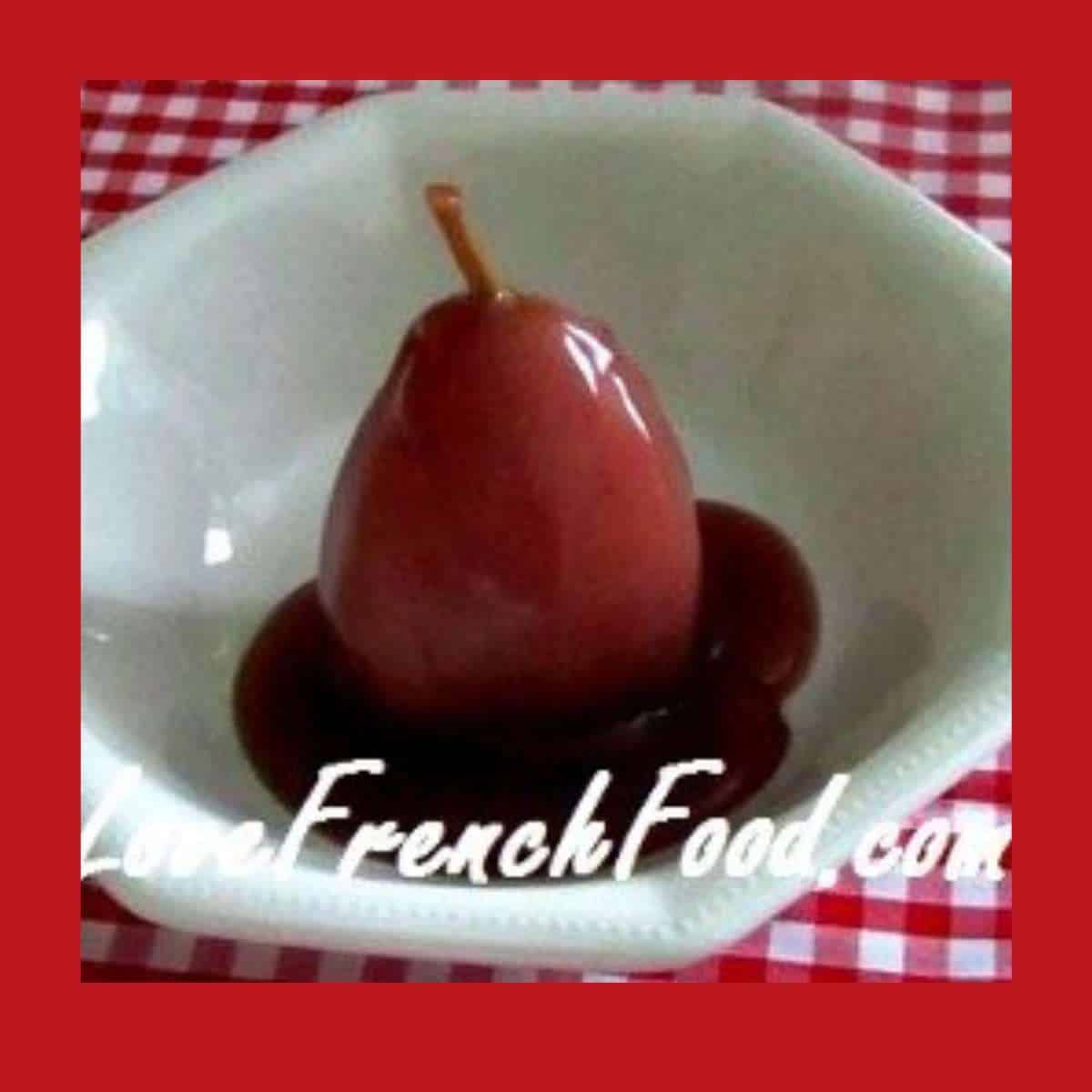 Whenever you want a French dessert to impress your friends this has to be a winner. And it is so easy which makes it a bonus. It is basically poached pears but of course you are poaching in red wine!
If you are serving children or someone who does not want to consume alcohol, because a little cooking does not release the alcohol as some people think, then serve Baked Pears instead. This recipe has a scrumptious ginger cream sauce, so good! Or, you could prepare Apple Fritters, always loved by kids!
You can make it ahead of your meal and then sit back and relax knowing you have something special for your everyone without all the stress and hard work.
For this recipe, the pears should be ripe but still be firm. A good pear to choose is the comice pear, which has a really good flavour and sweetness. If you can't find this variety, any good pear will be suitable as long as it is ripe and firm.
You will see that the recipe also includes a tablespoon of arrowroot. This is much better than using cornstarch/corn flour as arrowroot does not have a taste and therefore does not change the taste of the ingredients you are using for this dish.
However, if you don't have any arrowroot you can still use the cornstarch and it will still be a really delicious dessert using this, but when you get the chance, try the arrowroot and see the difference.
More Recipes You Will Enjoy
Print
📖 Recipe
Pears in Red Wine
---
Description
The sweetness of the fresh fruity pears mingling with the taste of a good red wine just has to be the most beautiful dessert!
---
6

large pears

1

bottle of red wine

½

cup

of soft brown sugar

1

stick of cinnamon

1 tablespoon

arrowroot or

3 teaspoons

cornstarch

5

cloves
Zest of

one

lemon
Zest of small orange
---
Instructions
Mix one tablespoon of arrowroot with two tablespoons of red wine and leave aside.
Put the remaining wine in a saucepan along with the sugar, cinnamon, cloves, orange and lemon zest.
Simmer until the sugar has dissolved.
Take your pears and peel them gently, leaving the stalks on.
Place the pears in the saucepan of wine and flavourings, put a lid on the pan and gently poach them for about twenty minutes or until they are tender.
Remove the pears using a slotted spoon and place in a deep serving dish or in individual dishes as I prefer.
Strain the red wine through a sieve to remove the cinnamon stick, zest and cloves.
Pour the wine back into the saucepan, give your arrowroot a stir and add it to the red wine.
Stir the mixture over a low heat until it thickens.
Pour the sauce over each pear and leave to go cold.
You can serve your pears in red wine with a little fresh cream or crème fraiche, but they can be served just as they are, either way they are a sheer delight.